According to a report by the Project Management Institute, Agile significantly increases the project success rate, with 95% of organizations affirming that Agile has accelerated their pace, spurred innovation, and made them more adaptable to changing customer needs. Agile also considerably enhances stakeholder satisfaction, with 71% of organizations witnessing an increase in customer experience.
This Certified Agile Business Analyst (CABA™) program aspires to empower you to thrive in the fast-paced universe of Agile methodologies. By integrating Agile concepts with practical case studies, this comprehensive course is designed to arm you with the progressive skills and knowledge required to confidently steer complex Agile projects. You will be exposed to a wide array of crucial subjects, such as Agile principles and frameworks, the role of a Business Analyst in an Agile environment, User Stories and Backlog Management, Agile Requirements Management, and Stakeholder Management, delivering a holistic comprehension of the intricacies of Agile Business Analysis.
Throughout the program, you will also learn to identify and manage stakeholders, write and prioritize user stories, manage product backlogs, and handle changes in requirements in an Agile environment. This certified program will also guide you on using Agile modeling techniques and popular Agile tools, equipping you with practical skills needed in the real world. This program will further demonstrate how to leverage popular Agile tools, facilitate effective communication within Agile teams, and resolve conflicts. You will gain insights into the significance of an Agile mindset, and how this shift in thinking is key to the successful application of Agile methodologies.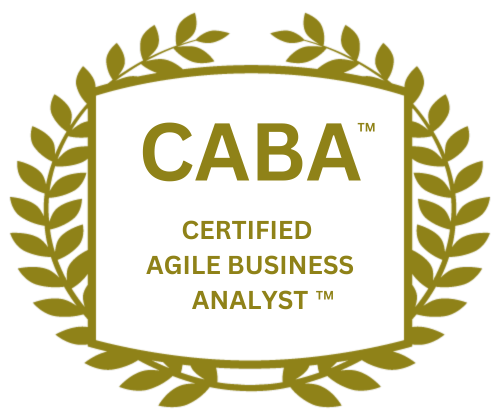 Upon completing the program, you will attain the prestigious Certified Agile Business Analyst (CABA™) designation. This professional credential demonstrates your expertise in the key principles and values of Agile, providing you with the foundation to operate effectively within an Agile environment, from requirement solicitation to backlog management and stakeholder engagement. As a CABA™ holder, you will possess the skills and knowledge to lead Agile transformation projects effectively and excel in Agile Business Analysis. The CABA™ designation will enhance your credibility within the Agile and Business Analysis community, potentially paving the way for new career advancement opportunities.