According to a study by the Boston Consulting Group, companies that prioritize sustainability outperform their peers financially by 2.5 times. Sustainability is no longer a buzzword. Implemented effectively, it can enhance your overall organization's reputation, financial performance, and social standings.
The Certified Sustainable Development Manager (CSDM™) program is a cutting-edge training program designed for managers and leaders who are committed to driving sustainable development within their organizations. This program will equip you with the knowledge, skills, and tools to effectively manage your organization's sustainability initiatives and align them with your organization's mission and values.
Throughout the program, you will learn how to conduct sustainability assessments using frameworks such as GRI, ISO, and CDP, identify key sustainability risks and opportunities, and develop powerful sustainable development strategies that can be integrated into your organization's SDG goals. You will also gain insight into green financial instruments and how they can help to finance your sustainability initiatives.
Participants will also learn about the latest trends and developments in sustainable development and how they impact global business and the economy. The program will cover key areas such as sustainability reporting and performance management, sustainable innovation, and sustainable governance through a series of interactive lectures, workshops, group discussions, and hands-on exercises. By the end of the program, you will be equipped with the knowledge, skills, and tools needed to effectively manage sustainable development initiatives and make a meaningful impact on your organization and community.
By the end of the program and upon passing the Chartered exam, you will have earned the Certified Sustainable Development Manager (CSDM™) designation which you can use to demonstrate your professional credentials and track record in effectively managing sustainable development implementation.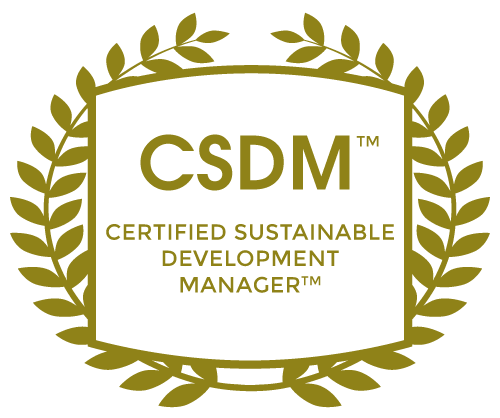 Globally demanded and recognized, this designation is an industry-recognized trademarked charter developed by the Chartered Institute of Professional Certifications and has lifelong validity. This program will empower you with the knowledge and skills to drive change and create a more sustainable future.