Carbon management is crucial to combat climate change. According to the IPCC, carbon dioxide emissions reached a record high of 40 billion metric tons in 2020, driving global temperatures to dangerous levels. Without immediate action, we face dire consequences: a study found that for every 1°C increase in temperature, there could be a 7% reduction in global GDP. Implementing effective carbon management measures is thus imperative to curbing climate change, safeguarding economies, and ensuring a sustainable future.
This Certified Carbon Management Leader (CCML™) program aims to empower you in the rapidly evolving field of carbon management. By blending theoretical knowledge with real-world case studies, this comprehensive course will equip you with the advanced skills and knowledge required to effectively manage and reduce carbon emissions. You will delve into a broad range of crucial topics, including carbon accounting, policy frameworks, carbon reduction strategies, and reporting standards, thus providing an in-depth understanding of carbon management complexities.
Throughout the program, you will learn to identify and assess an organization's carbon footprint, devise and implement robust carbon management plans, and track and report progress against set objectives. The program will also guide you on how to leverage technology in carbon management, model future carbon emissions, and uncover the best strategies for aligning carbon management with overall business strategy. Additionally, you will gain insights into the significance of effective carbon disclosure and how it can enhance stakeholder trust and compliance with evolving regulations.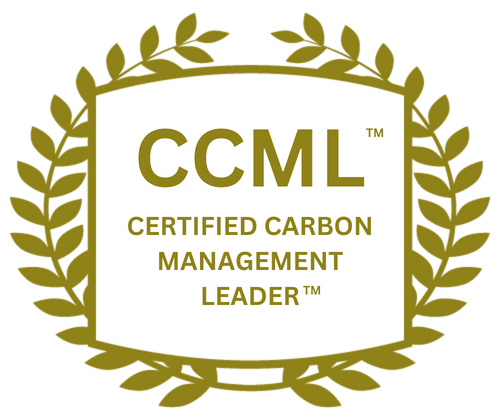 Upon completing the program and passing the Chartered exam, you will attain the Certified Carbon Management Leader (CCML™) designation. This credential will demonstrate your expertise in carbon management, including carbon accounting, policy frameworks, and carbon reduction strategies. It will also demonstrate your knowledge about the regulatory landscape and how to ensure compliance with carbon emissions standards, thereby reducing risks of non-compliance penalties. With the CCML™ designation, it will also position you as a distinguished leader who is committed to drive sustainable change within your organization or community, contributing to the global effort against climate change.