According to a recent study by Harvard Business Review, companies that prioritize sustainability reporting outperform peers by 4.8%, and those that disclose carbon emissions and climate strategies see an even higher ROI of 21%. In addition, NGOs, consumers, regulators, and investors are increasingly demanding a thorough assessment and management of companies' sustainability practices. To meet these demands, it is imperative for businesses to clearly articulate their sustainability performance and engage positively with their stakeholders.
This Certified Sustainability Reporting Manager (CSRM™) program is designed to empower sustainability leaders with a deep understanding of the best practices and requirements in the field of sustainability reporting. Through real-world case studies, interactive discussions, and hands-on exercises, you will gain a comprehensive understanding of the history, evolution, and current trends in sustainability reporting.
This program will focus on critical sustainability reporting frameworks, including the United Nations Global Compact (UNGC), the Global Reporting Initiative (GRI), the Sustainability Accounting Standards Board (SASB), and the Task Force on Climate-related Financial Disclosures (TCFD). You will learn how to effectively use these frameworks to develop and implement a sustainability reporting strategy that is aligned with your organization's values, goals, and objectives.
In addition, this program will cover the latest tools and techniques to help you measure and communicate an organization's sustainability performance and progress. You will also gain a thorough understanding of the importance of sustainability data management and be equipped with the latest knowledge and skills to integrate sustainability reporting into your organization and report on environmental, social, and economic performance.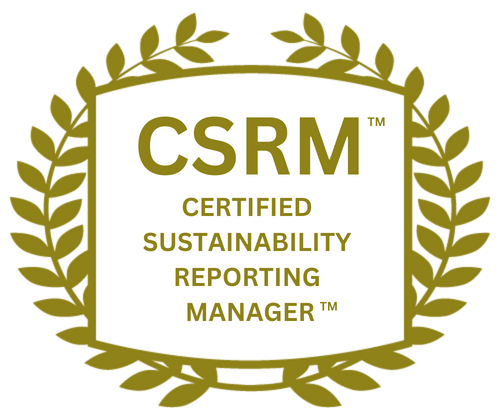 Upon completing this program and passing the Chartered exam, you will earn the Certified Sustainability Reporting Manager (CSRM™) designation. The CSRM™ designation is recognized as a prestigious and highly sought-after credential in the sustainability reporting field. By earning the CSRM™ certification, it will help you possess the necessary skills and knowledge to effectively manage and communicate sustainability initiatives and results. It will also increase your credibility and reputation in the field of sustainability reporting and potentially lead to career advancement opportunities.
1 Chartered Institute of Professional Certifications' reviews and ratings are a comprehensive collection of participants feedback we have gathered over the last decade. To view authentic and personal testimonials that are handwritten by our participants, please download our participants' written reviews here.