Predictive modeling is crucial as it leverages statistical algorithms and machine learning techniques to predict future outcomes based on historical and current data, enabling organizations to forecast trends, anticipate customer behavior, optimize operations, and mitigate potential risks. A recent study by McKinsey highlighted that organizations with predictive modeling capabilities are 23 times more likely to acquire customers, 6 times as likely to retain customers, and 19 times as likely to be profitable, underlining the necessity for proficient predictive modeling to ensure sustainable growth and success.
This Certified Predictive Modeling Specialist (CPMS™) program is devised to help you thrive in the dynamic field of predictive modeling. By merging statistical knowledge with real-world applications, this program will equip you with the sophisticated skills and knowledge needed to confidently handle complex predictive modeling tasks using R. You will explore and learn a diverse range of critical topics including predictive modeling fundamentals, data cleaning and preparation, data manipulation, classification algorithms, model evaluation, exploratory data analysis, regression modeling, tree-based models, clustering algorithms, time series analysis, ensemble techniques, and model deployment and interpretation.
Throughout the course, participants will gain a solid understanding of statistical concepts and techniques, learn to manipulate and transform data using R, implement and evaluate diverse predictive models, understand the intricacies of regression modeling, and explore the applications of clustering and time series analysis. This program will also delve into advanced topics like ensemble techniques for model improvement and provides insights into model deployment and interpretation.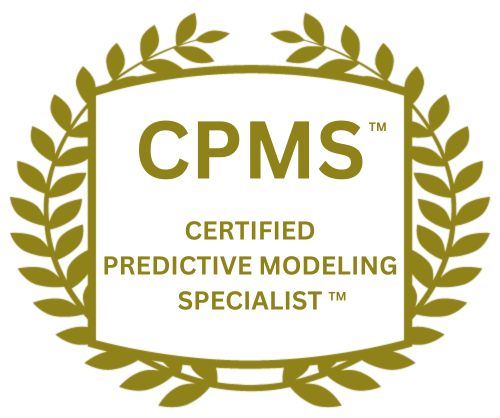 Upon successful completion of this program and passing the Chartered exam, you will earn the prestigious designation of Certified Predictive Modeling Specialist (CPMS™). This globally recognized credential will demonstrate your expertise in developing, evaluating, and deploying predictive models using R. Not only will this CPMS™ designation distinguish you as a highly skilled and knowledgeable predictive modeling expert, but it may also open up new career advancement opportunities and enhance your overall credibility and reputation within the industry.
1 Chartered Institute of Professional Certifications' reviews and ratings are a comprehensive collection of participants feedback we have gathered over the last decade. To view authentic and personal testimonials that are handwritten by our participants, please download our participants' written reviews here.